Retirees arrive for winter
Thursday, 30 April 2015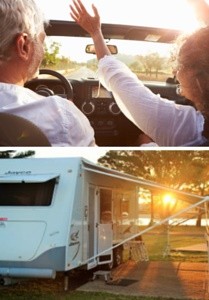 With the cooler weather setting in we have recently seen an increase in our annual visitors looking to escape the gloom down south for a warmer climate. Some visitors return year after year to settle in at Lakeside for a few weeks of peaceful relaxation.
We have also recently added a page on our new website that explains about our special "Come and Stay" for return visitors. This invitation rate is for those who return annually, usually rebooking for the following year while here during the winter months, so they can enjoy an affordable longer break in the sunshine.
Manager Gerald Searle loves welcoming back these familiar faces each year and says "the "Come and Stay" pricing works out to about $25.00 a night, which is a significant discount of about $11.00 a night! There are special conditions like a minimum stay periods and it is only for tourists, but it certainly makes it an affordable way to escape the winter weather each year!"
The "Come and Stay Rate" is based on stays of a month or more and is now also available in the small dog friendly section of the park. For more information click here.