Beaches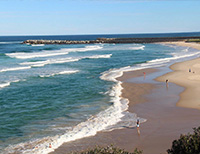 Ballina Lakeside is located within walking distance of two beautiful, patrolled beaches.
Lighthouse Beach is the closest and is a 700m long beach with protection at the northern end from prevailing northerly breezes. The new surf club on Lighthouse Beach is an architectural delight and offers a handy café downstairs for beachside refreshments. Lighthouse is patrolled in Easter, Spring and Christmas school holidays.
Shelly Beach, located just over the headland, is also 700m long and patrolled throughout summer. A great feature is a small wading pool at the southern end, perfect for toddlers and small children. Both beaches have fine white sand and great views.
Just remember to swim between the flags!
Bird Watching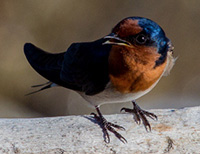 Ballina, on the Far North Coast of NSW, is an area renowned for its natural beauty and stunning beaches. However it is also a popular destination for bird watchers from around Australia, who come for the abundant and varied bird species found here. Many of these species are quite rare and therefore a key attraction for enthusiasts.
Ballina Lakeside is an ideal spot to bird watch and we have compiled our own bird watching list in conjunction with BirdLife Northern NSW. There are several other good spots around Ballina including Lake Chickiba, Lennox Head Heathland, Mobbs Bay, Richmond River Nature Reserve or Bicentennial Gardens. Ballina Visitor Centre offers a bird watching brochure.
Boat Hire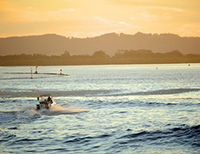 If you would like to experience the beautiful Richmond River from on the water instead of the shoreline, why not hire a boat for the day? Ballina Boat Hire which offers tinnies and BBQ boats, with no licence required. If you have your boat licence, you can try Saltheart Boat Hire Ballina, which has three great trailer boats to choose from with a launching service available.
Cycling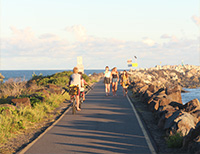 Ballina is perfect for cycling and cycling is a must-do holiday activity in Ballina. With flat terrain and a quiet atmosphere, the going is easy and the views are amazing! Ballina has over 14 kilometres of safe, shared pathways perfect for cycling, jogging, skateboarding, rollerblading or walking. We recommend you try cycling as it is such a great way to check out the area.
The 11.5 km loop track around Ballina winds past beaches, lakes, parks, over bridges and along the Ballina Break Wall up to the lookout at Ballina Head, which offers a stunning vista.
You can also cycle from Ballina to Lennox Head via the new pathway past Sharpe's Beach.
You can pick up a Cycleways and Shared Paths Map from our front office or the Ballina Information Centre. If you can't bring your bikes, you can rent some in town for the duration of your stay or just the day, try Sunrise Cycles.
Fishing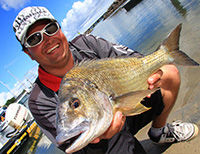 As a location renowned for its wonderful seafood, it is essential to pack your rod when you visit Ballina. There are some fantastic fishing spots along the river, estuaries, beaches and the break wall at the fishing mouth. The main waterway, the Richmond River, is a designated recreational fishing zone from Burns Point to the sea wall and provides a prime habitat for anglers to pursue a wide range of fish including bream, flathead, whiting, jewfish, blackfish and tailor. The beach fishing at Flat Rock, Sharps Beach and Angel's beach is legendary, and also very scenic! Surf anglers can often be seen at dusk, soaking up the atmosphere and waiting to catch some dinner.
The local bait shops or Ballina Visitor Centre are the ideal spots to find out what's biting when you visit, where you can also pick up the required fishing licence.
Paul's Fishing offers 5 hour excursions on a beautiful 4wd beach, with all legal catches cleaned and prepared for the dinner plate and a pick up and drop off service.
Golf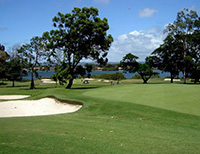 Ballina Golf Course is favoured by locals as the "garden course" of the Northern Rivers, and offers 328 greens with easy walking, lush fairways and shady trees. If you're planning to play some golf while you visit, the Ballina Golf and Sports Shop also regularly offers great deals, like $30 for 18 holes & cart hire on Thursdays. You may like to book in advance!
A local's secret favourite, Teven Valley Golf Course is less than ten minutes drive from Ballina, nestled in lush hinterland. This pretty course boasts meandering creeks, remnant rainforest and even the occasional playtypus. Just watch out for all the gum trees!
Hiking and Walking
Ballina itself offers over 14kms of walking, jogging and cycling tracks ideal for those wanting to explore the town and beaches. Pick up a pathways map from reception.
Further afield the scenic coastal walk from Ballina Beach to Lennox Head. At low tide the 12 km (one way) walk can be completed entirely on paths and the beach and the views are stunning! You can start at Lennox Head or Ballina.
The Ballina region also has a unique range of hiking options within National Parks. Nightcap National Park features dramatic waterfalls and several walks for all levels including The Big Scrub Loop (1.5 kilometres, 45 minutes, moderate), Rocky Creek Dam walk (2 kilometres one way, 45 minutes, moderate), Minyon Loop (7.5 kilometres, 4 1/2 hours, moderate – hard) and the Boggy Creek walk (2 kilometres, 45 minutes, easy).
The Whian Whian State Concervation Area offers the World Heritage-listed Protestors Falls walking track which leads through magnificent rainforest to a spectacular waterfall. An ideal short walk for families and nature-lovers.
Click here for more local National Parks info.
Kayak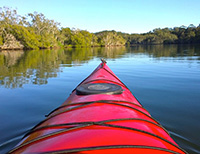 Get a new perspective on Ballina and explore the beauty of its river, creeks and estuaries from the peace of a kayak. The calm, pristine waters around Ballina Island are safe and include mangroves and incredible birds and wildlife. Local tour guide Scott Rawstorne of Kayak Ballina, tells why he loves kayaking here so much.
"Paddling around Ballina Island has become somewhat of a rite of passage for residents who launch from any one of the many boat ramps to see dolphins playing in the open waters, migratory birds wading across the sand flats, and azure kingfishers darting through the sheltered mangrove environments of the mighty Richmond River and its tributaries."
If you don't have your own kayak you can head out with Kayak Ballina.
Snorkelling
Although not renowned for it, Ballina does offer a couple of spots to enjoy snorkelling while you visit, especially when the water is clear. Try the Richmond River, near Missingham Bridge, and the 'boat channel' at Lennox Head which features a reef with a wide variety of marine life. Our own Shaws Bay is also a popular, safe spot to view local marine life.
Stand Up Paddle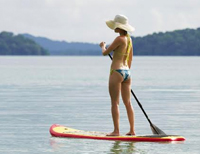 Have you thought about learning to SUP or are you an avid fan of the sport? This fitness and sports craze is a great way to tone and increase balance and Ballina is one of the best locations around to practice it. There are several peaceful flat waterways in Ballina including our very own Shaws Bay, North Creek, the Richmond River and the boat channel and Lake Ainsworth at Lennox Head. You could try a new location every day! For lessons try Rubbersoul Boardriding Co. or for board hire contact All Above Board or Ballina SUP and Surfboard Hire.
Surfing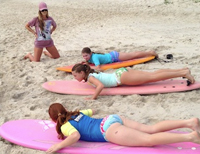 There are several surf schools in the area and they offer everything from single lessons to courses running for up to 4 days.
Kool Katz operates lessons in Lennox Head and East Ballina or in one of the beautiful lakes if the swell is very large. Summerland Surf School offers regular 2 hour lessons daily at Ballina and Lennox Head. Both schools hold their lessons where the surf is most suitable on the day.
Tours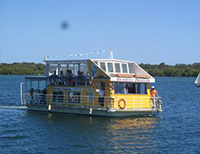 There are a number of organised tours available in the region. For further details please access the links below.
Whale Watching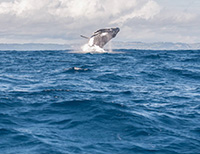 Whale watching season runs from approximately June – November in Ballina with a large number of annual sightings. Humpback whales are easily seen as they migrate north to the warmer tropical waters and as the most eastern point in Australia, this region is ideally placed to view them from the shore.
One of the best ways to enjoy whale watching is from a scenic coastal lookout – there are lots of points just perfect for spotting a whale or ten! Why not take a picnic and enjoy a relaxing hour whale watching from one of these vantage points? Some of the best spots to try are the North Break Walla and Ballina Head in Ballina and Pat Morton Lookout at Lennox Head.